CaptureSaver® - New Offline Browser & Internet Research Software
CaptureSaver lets you capture, organize, and search the information you gather on the Internet. When you use CaptureSaver you'll never lose important information, or have to worry about Web sites or pages disappearing never to be found again.

Save, organize and search anything:

Web Pages, Blogs, Wikis, RSS News, Email, Images, Newsgroup Threads, and Other Internet Content.
Text from Window, Screen Shots, Rich format text from Application such as Microsoft Word, Notepad, Adobe Acrobat Reader or others.

CaptureSaver works with

: Internet Explorer, Firefox, Google Chrome, Opera and All other IE based browser. Click here for more information.



CNET Editors' Rating:


Only

$39.95

, 1 Year Free Upgrades
30-Day Money Back Guarantee

CaptureSaver is an internet research software for:
Students, Researchers, Teachers, Professors, Information Professionals.
Save the results of on-line research including journal articles, newspaper stories, research from on-line systems(Lexis/Nexis, Dialog, Factiva, etc.)

Legal Researchers, Attorneys, Para-Legals, Judges.
Organize information from Lexis, Westlaw as well as rulings and legislation from state, federal, and local government sites.

Marketing and PR Departments, Product Managers.
Keep permanent copies of articles, reviews, and news stories about your products and your company. Use CaptureSaver to save and organize competitive intelligence information you gather on-line.

Journalists, Writers, Authors, Bloggers.
Save ideas, facts, and figures for new stories. Keep permanent copies of articles or posts that you use as sources.
What does CaptureSaver for you?
Gathering information for research
Save Web pages to browse offline
Save selected text and images from web page
Gather information from other applications such as MS Word and PDF files
Capture text and images from clipboard
Capture Screen Shots
Organize information in a free form hierarchical tree
Edit content with rich html formatting capabilities
Add your personal comments and specify tags for every article.
Folder Password-Protection.
Quickly find information with full text search
Build your own digital library of information.
Never lose important information
Share your research information with others.
Easily move your research information from one computer to another
And so much more...
Interacts Comfortably
CaptureSaver has a simple intuitive user interface which you should be comfortable with in very little time.
All your information have saved into Knowledge Base database file. It is easily for organizing information and quickly for searching.
Works with Internet Explorer and Mozilla Firefox.
With just one click to save web pages into Knowledge Base.
Drag & Drop supported. Shortcut key supported.
Move folders and articles freely around the knowledge tree to achieve the most suitable order
And so much more...
Free collection by CaptureSaver
New: A lot of most funny, dangerous and spectacular pictures gathered by CaptureSaver. Click to free download
Testimonials
I found CaptureSaver very helpful when I wanted to capture news or technical articles that might only be online for a brief time – or with some sites the content is free to read for perhaps a month and then is moved to an archive that users must pay to access.
I can personally recommend CaptureSaver as an excellent program that works well and is very easy to use.
And to think I have been wasting my time clicking on a Notepad shortcut on my desktop all these years,copying and pasting,naming what the information is, and saving them in a folder on my desktop called My Notes. Yes, sometimes I even edit what I saved. Amazing what CaptureSaver's technology has to offer..
Nice, easy-to-navigate GUI, with many available options.
Allows capture of web page, window text, screen region, clipboard contents, and URL-series creation, among other features.
More of what customers are saying
How to save web page?
To save web page with CaptureSaver, only right click anywhere on the page and select Add to CaptureSaver from the menu.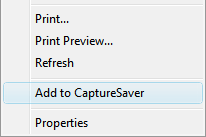 More Detail: Save web page and browse it off-line