CaptureSaver's primary purpose is to capture information, either while you are surfing the internet or using other Windows Programs, and build a knowledge base you can refer to at any time.
1. Using CaptureSaver with your Web browser
CaptureSaver works with: Internet Explorer, Firefox, Google Chrome and Opera. The extension for IE have installed by default. To install the latter three – under the help menu is "Install Firefox Extension", "Install Chrome Extension" and "Install Opera Extension".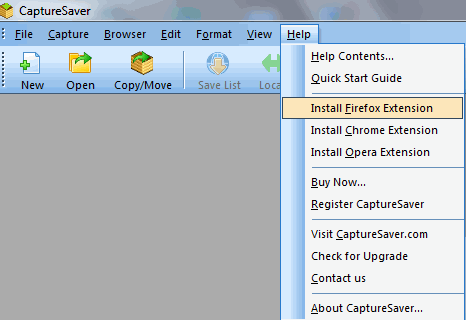 For more detail, please visit: Using CaptureSaver with your Web browser
2. Capturing complete Web pages Offline
When you are viewing a page in your browser that you wish to save, right click anywhere on the page and select Add to CaptureSaver (In IE) or CaptureSaver: Save Current Page (In Firefox) from the menu. CaptureSaver will then save the entire contents of the web page in its database. You can view these saved pages at any time, whether you are connected to the Internet or not.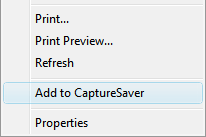 Note:
To capture pictures from a web page, point to the image you want to save, right click on it and select Add to CaptureSaver.
To save a page or picture without opening it, right-click the link you want to save and select Add to CaptureSaver.
3. Capturing selected content from a web page
To capture selected text and images from a web page, simply highlight the text and images using your mouse (hold down the left mouse button and drag the cursor over the text and release), then right click inside the selection and choose Add to CaptureSaver(In IE) or CaptureSaver: Save Selection (In Firefox) from the menu.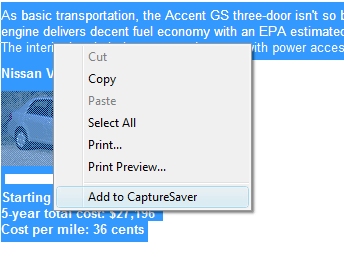 4. Capturing text from window
To capture text, Click "Text" button

on CaptureSaver main toolbar. Move the mouse pointer over a desired place and left-click to capture. To cancel right-click or press <ESC>. When text is captured, the preview window will be opened which allow you to edit or add your comments and keywords.

5. Acquisition of text and images
Select a block of text or images in an application such as IE, Microsoft Word, Notepad, Adobe Acrobat Reader or others you want captured. And there are two ways to capture them to CaptureSaver as following.
Copy these to the Windows Clipboard and click CaptureSaver's "Clipboard" button.
Drag it straight to the CaptureSaver Knowledge Tree. CaptureSaver would captures the selective content exactly as you see it, with the same font, color and font size.
6. Capturing screen shots
CaptureSaver allows you to take screen shots from any part of your screen and save them into the Knowledge Base. To Capture screen shots, select menu "Capture->Capture the Entire Screen" or "Capture->Capture a Selected Window" or "Capture->Capture a Region of Screen".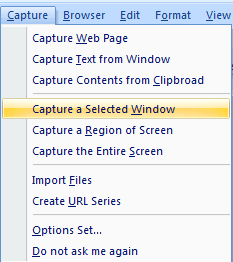 7. Browsing and editing articles
The Knowledge Tree window on the left displays the Folders and Articles that comprise your CaptureSaver knowledge base. Double-click an article and its content will be displayed in the right panel. To edit the Article, Just click "Edit" button.
8. Organizing articles
With CaptureSaver, you can organize information in a free form hierarchical tree easily.
Create folders and sub-folders to hold your information.
Easily browse through your folders and saved information.
Add your personal comments and specify keywords for every article.
Move folders and articles freely around the knowledge tree to achieve the most suitable order.
Folder Password-Protection.


9. Searching for content
Once you've acquired content you need a quick way to find it again. CaptureSaver includes full text search so you can instantly find whatever you want.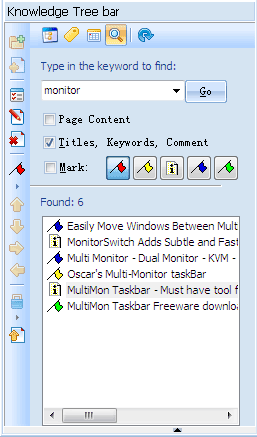 Get Free Collection by CaptureSaver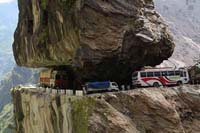 A lot of most funny, dangerous and spectacular pictures gathered by CaptureSaver.

Product Info

Hot Guides & Tips