Internet Information Manager, Collect, Search and Manage
Web Information Management is the act of managing the information on a web page. Companies who choose to manage the information on their websites often use Internet Information Management software.
CaptureSaver is the professional internet information management software that lets you collect, annotate, tag, edit, search and manage information you gather on the Internet. When you use CaptureSaver you'll never lose important information, or have to worry about Web sites or pages disappearing never to be found again. See more information...
CaptureSaver lets you categorize the web information in a free form hierarchical tree. Context menus on the Knowledge Tree window enable you to create new folders and articles, remove, rename etc. Drag and drop lets you move, copy and re-arrange the tree to suit your needs.
Creating new folders in the internet information manager
To create a new folder just click the right mouse button on an existing folder items and choose "New Folder" from the context menu. You can then change the folder name from "New Folder" to whatever you want by overtyping, then pressing Enter when you have finished. You can rename a folder at any time, from the same context menu,

Renaming folders and articles
You can rename a folder or article in several ways. In the Knowledge Tree right click on the folder or article name to access its context menu and choose Rename, or, press F2, or, click the left mouse button on the highlighted name as you do in MS Windows Explorer. Press Enter to save the new name or Escape to leave the name as is.
Give mark for articles
In the Knowledge Tree right click on the article to access its context menu and choose Mark.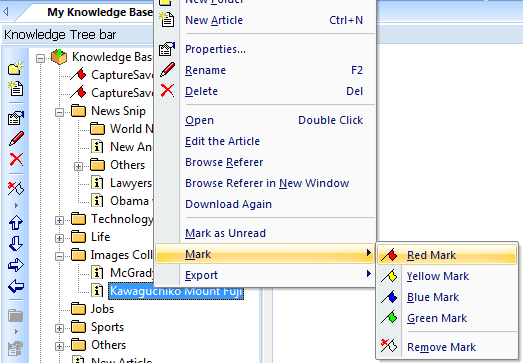 Secure folder
CaptureSaver allow you to prevent unauthorized access to one folder. To secure a folder, in the Knowledge Tree right click on the folder to access its context menu and choose Security.
Rearranging folders and articles
You can move folders and articles freely around the knowledge tree to achieve the most suitable order.
Multiple Articles can be selected via. the mouse or keyboard and moved or copied as a group. Use Shift+click to extend the range of selected articles and Ctrl+click to include or exclude a specific article. All selected articles must be in the same folder and multiple folders cannot be selected.
Drag and drop are used to re-arrange the tree.
To perform a drag operation press and hold down the left mouse button on an item (folder or article(s)) and then move the mouse to drag the item(s) to the new location. When the mouse is positioned where you want the items moved to, release the left button to drop them at that location.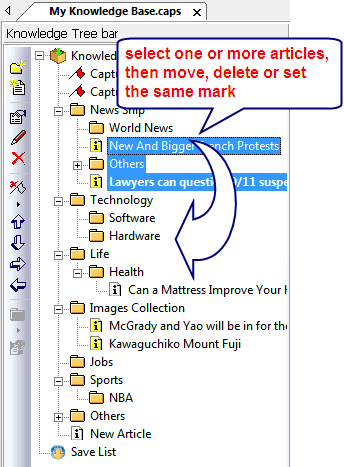 More: How to copy web page to the web information management

Quick info
Capturesaver lets you:
Best web information management
Save complete Web pages to browse offline
Save selected text and images from web page
Collect information from other applications such as MS Word and PDF files
Organize information in a free form hierarchical tree
Edit content with rich html formatting capabilities
Add your personal comments and specify keywords for every article.
Quickly find information with full text search
Never lose important information
And so much more...